The Ease of Voting Machine Fraud (VIDEO) | Liberals Unite
:
'via Blog this'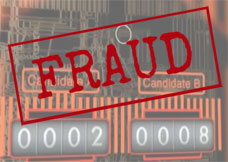 According to an article on
PoliticolNews.com
,
Mitt Romney's son, Tagg, is a major investor in Hart InterCivic, the company that owns electronic voting machines that will be used in Ohio for this election.
The article also alleges that these machines are easily hacked. Not to mention it's an obvious conflict of interest.
This video and story serve as great reminders of just how easy it can be.